Coffee Valve Belgium Coffee Maker
29 Sep 2016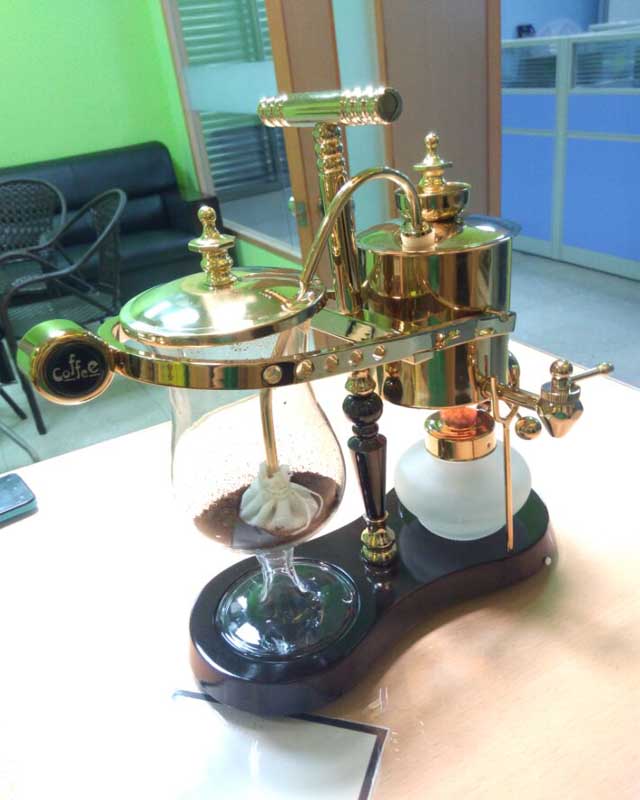 coffee valve would like to share you that Belgium coffee maker was prevalent in 19th century among the European royalty. It showed the industrial beauty of Europe, and was the glorious coffee maker at that time.Using the working princles of siphon and lever, Belgium coffee maker shows the extraction process of coffee perfectly, and deserves being collected as well. Today the article is about the structure and usage of Belgium coffee maker.
1. Structure
Base, grip, lever, siphon tube, mesh filter, cup cover, glass bottle, piston, coffee reservoir, tap and wick burner.
2.Usage:
1) Put glass bottle and coffee accumulator on the base;
2) Put siphon tube into the coffee reservoir;
3) Prepare proper amount of hot water, pour to the coffee reservoir;
4) Put the ground coffee to the glass bottle, and cover the cup cover;
5) Twist the piston tightly;
6) Heat the coffee reservoir by the wick burner, after water is boiled, water flows from the siphon tube to glass bottle, mix with the ground coffee.
7) After weight of the reservoir declines, the lever will fall down like a seesaw;
8) When fire goes out, the temperature drops, the coffee flows back to the reservoir by the tube;
9) Turn on the piston of the reservoir to make the air circulates, and open the tap again.A cup of tasty coffee made by Belgium coffee maker is ready after the coffee flow down to the coffee cup!
A cup of black coffee is done now! Do you understand how to do?
Tag: coffee valve
Originally published 29 Sep 2016, updated 29 Sep 2016.