Do you need the coffee valve for your coffee product
28 Aug 2019
The answer is definitely a 'Yes' if you are a coffee roaster and you want to share your coffee product to more customers. The coffee valve will give your product a much better storage condition which helps to keep the air outside beyond the inner environment. There are two different types of #coffeevalve, and their difference is with or without the filter. Without the filter, you can put coffee bean rather than coffee ground inside the bag. Today, I want to share with you about the introduction of coffee kits, not only about the V60 filter bowl, but also some creative add-ons.
The basic coffee kit you need will depend on what kind of coffee you want in daily life. Usually, an espresso coffee machine is very common for using at home and office. This kind of integrated machine is contained with grinder, brewer and also steamer. Here, if you think the steamer is difficult to control, you may need to buy a steamer for making a nice latte art. The price range of integrated coffee machine is very wild from affordable to very expensive, so everyone can choose the one that having the price at a good value. If you want a higher quality of coffee ground, you could also have a grinder so it guarantees a good basis of your cup of coffee.
You will also need a pitcher for making latte art, and it is usually made from stainless-steel. It has several types which is divided by the shape of spout: long, pointed and round. The round one is suitable for making heart shape and tulips; and the pointed one is good for 'leaves' shape. When choosing the milk, it is better to use to whole milk rather than skimmed milk because of its higher fat content. Next, the timer and thermometer will be used to calculate and control the brewing time and the status of milk foam.
What is more, if you want to make pour over at home, except for the grinder, you need to have filter paper for brewing coffee. The coffee filter paper is divided by bleached filters and unbleached filters.
- The bleached filters are paper that have undergone a process that makes them appear white. It uses the chlorine and oxygen to make the brewing process go smoother. Chlorine is the same material they use to keep the swimming pool clean, if you worry about the quality, you can pay higher to get those one bleached using oxygen.
- The unbleached filter will not have such bright white colour as the bleached one. In fact, they are more natural and much more environmentally friendly. However, it may bring you a slight taste of paper into your coffee. LOL, don't you worry. What barista do is to place the filter in the coffee maker and pour water into it to make the entire filter wet. Then, you will need to discard the water you used to wet the filter and start to brew your coffee.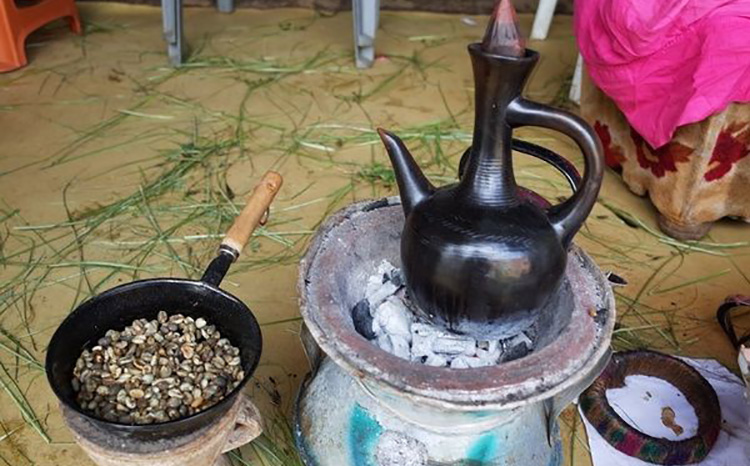 Some of you may wonder how Ethiopian people grind the coffee bean without the coffee grinder. This is what they use to smash the coffee bean, which can still be found in today`s kitchen- people use it to smash garlic or ginger. I believe that the greatest smell of coffee will release through this process! Then they will use this wok and pot to fry the coffee bean and boil the coffee respectively.
Minipresso, it is a portable coffee machine for making espresso, which does not need to charge or any batteries. It is even lighter than any lens, so you can bring it with you on travelling.
Muki, it is a coffee cup that you can put your favourite photo on it, it will be printed through the thermal sensing mechanism. Even when you finish the coffee, the photo will still stay on. I guess, you can ask your friends to print one for you through an app maybe?
Another machine for printing photo is called Ripple maker, it used the 3D and ink-jet printing to print on the top of latte, which is connected through wifi as well. Because the coffee is brewed by automatic coffee machine, it increased the colour and resource to create photo that even have complicated layers of colours. The printing process only take 10 seconds.
Are you good at using the grinder? The Handground Precision Coffee Grinder can standardise the grinding size on the amount you need. It is designed as a round shape with the material of ceramic sawtooth and triple stainless-steel shaft.
Since I started to know more about coffee, I made more new friends in this field. I found that most of them love to share nice photos in their social media platform, it shares their joys but also attract more people to get interested on this drink or let`s say, this culture. The coffee kit sometimes play an important role in the photo, it is not only displaying the hardcore facility they have, but also contains their enthusiasm.
That is some information about the coffee kit, it will be great if you have already had a general idea on what kind of coffee kit you will need to start your day with coffee.
Tag: coffee valve
Originally published 28 Aug 2019, updated 28 Aug 2019.