The 7th anniversary of Wojin
26 Nov 2019
Wojin was established in Nov. 26th 2012, let`s welcome the 7th anniversary of Wojin at the same day today in 2019. We planned to organize a trip to Caoxi Hot Spring and Moazi Mount in Shaoguan with our staffs for 2 days, which was to celebrate the anniversary, thank to our staffs, strengthen team building and create harmonious collective atmosphere.
In Nov. 23th, we took 4 hour on car and finally arrived in Caoxi Hot Spring Resort. This resort is surrounded by mountains and rivers, and contains numbers of healthy spa pool rich in thorium and metasilicic acid. Visitors can enjoy different kinds of outdoor hot spring, and it is well-known as 'one of the ten best excellent spring in Guangdong', 'one of the ten new sightseeing in Shaoguan' and 'National sightseeing spot'. The water here comes from Caoxi River, such hot spring helps us chilled and relaxed from busy work.
On the second day, we went to the forest in Maozi Mountatin. Luckily, it was the season for the ginkgo leaf, we could see a golden world created by this leaf from the lawn to the path. Here preserved the original forest scenery, where the wild fruit was all over the mountain. We were all impressed by the golden color between blue sky and green trees, and used our camera to record these pretty moments. At the end, all of use took a photo with the pretty background. We hoped our company would have a bright future.
Then we started to head back with the sunset. Although this trip is over, the importance of teamwork and unity has been deeply imprinted on our hearts. We know that in our future work or life, unity and cooperation will be necessary factors for our progress or being success. The next step is to work hard and put that spirit of persistence and unity into work.
In Wojin, we all believe that the corporate culture is the motivation to keep growing and guarantee high execution power. During the past 7 years, we keep investigating and improving the product and expanding production scale, and in the future, we will stay true to our mission and keep going forward.
Again, Happy birthday to Wojin! Let`s work together and create a better future.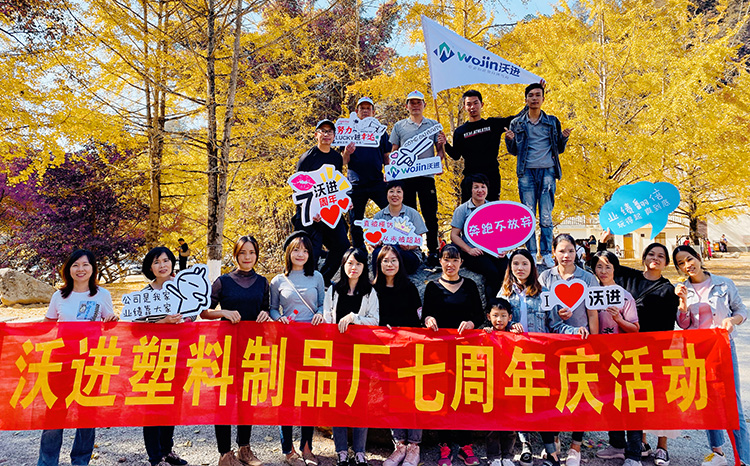 Tag: wojin
Originally published 26 Nov 2019, updated 26 Nov 2019.